About Herbasynth Medicare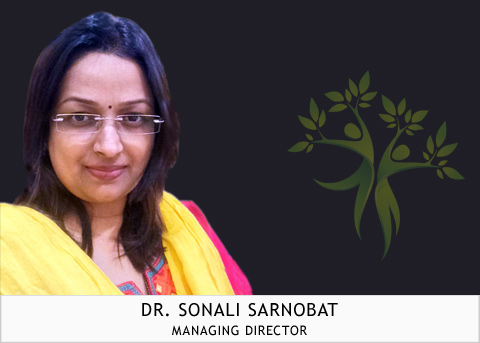 Our Motto
Health .... The Most Natural Way!!!
Dr. Sonali Sarnobat
Managing Director
Dr. Sonali Sarnobat is a gold medalist in medicine and physician from Belgaum. Dr. Sonali Sarnobat has attended many seminars on health issues and was also a speaker in few of them. She was a eminent speaker at the "Nath Pai Vyakhyanmala", a renowned public dais for speakers from all over India, in 2011. She is a column writer of health issues in Tarun Bharat Daily. Dr. Sonali Sarnobat was also the proud recipient of "Mahila Gourav Puraskar" in 2009. She has conducted several camps for prevention of Dengue, Malaria, Chikungunya and Health awareness programs in nearby villages. She is an author of the book "Arogyamantra......a journey towards healthier life". (The book is available in Marathi,Kannada,English).

With her full-fledged practice of 20 years, Dr. Sonali Sarnobat has developed her own unique style of treating patients. Only Allopathy, Homeopathy, Ayurveda or other alternative medicines cannot cure the patient, of course with some exceptions, so Dr. Sonali Sarnobat after her continuous efforts to heal the patients and cure them of their ailments, has formulated a unique treatment pattern to treat patients.
Dr. Sonali Sarnobat presented a paper on climate changes and health in pollution control board convention. She is a physician to former Health Minister of Goa.

Dr. Sonali Pawale
CEO
Dr. Sonali Pawale is a Consultant and the Technical Head for clinical operations at Herbasynth Medicare. She has worked in Research Organization and has done many global and domestic research and feasibility in Oncology, Diabetology, Neurology, Gastroenterology and last but not the least in Psychiatry. She has worked to turn VedDoc SMO into CRO in 2010 with a team of 30plus members and providing solution for Pharma industry with end to end services in short time.

Dr. Sonali Pawale has done her MSc. from Nottingham Trent University UK, B.A.M.S from India and has completed her clinical research from Kriger International, USA. She has been working in the Pharma Industry since 2008.


History
Our ancient science ayurveda has many magical remedies and combinations which can be taken by patients themselves, though with limited knowledge of the same, as our ancestors have woven these treatments around our lifestyles and festivals and also some rituals. Best known example is following the tradition in Shravan (the Hindu Holy Month) of avoiding some particular foods and following some customs which depicts the ultimate health.

So Dr. Sonali Sarnobat along with Dr. Sonali Pawale, who is an Ayurvedic practitioner and is in continuous research about Ayurvedic medicines, have developed a unique herbal combinations for the general ailments of the human beings. These medicines are formulated for the needy patients who have chronic ailments like Liver Diseases, Chronic Arthritis, Kidney Diseases, Chronic Fatigue Syndrome, Potency Problems, Digestive Diseases, Menstrual Problems and Cardiac Ailments. These products are designed to help patients and not to give any adverse effects as these are well proven on human beings and no adverse effects has been noted so far. Also with current trend and awareness of people about personal grooming and personality development, HERBASYNTH MEDICARE has come up with an absolute range of cosmetics and personal care products.

As everyone is aware about usage of chemicals and heavy metals like Lead, asbestos in skin care and hair care products which can damage our body to serious extent, HERBASYNTH MEDICARE has come out with herbal cosmetics like Hair Oil, Shampoo, Face-wash, Moisturizer, Face-packs, Face-creams, Lip balm, Night cream, etc. These products vary from normal skin and hair care to extensive protective and curative medicinal care products. HERBASYNTH MEDICARE plans to come out with many more natural personal care products in future.


At Herbasynth Medicare
OUR AIM IS TO PROVIDE CURE TO ALL HUMAN BEINGS FROM ALL POSSIBLE AILMENTS WITH THE HELP OF THE ANCIENT LIFE SCIENCE "AYURVEDA".
This treatment is designed to ensure that the patient enjoys life to the fullest and in a healthy manner.
Its is an endeavour at "Herbasynth" to make available superior quality Ayurvedic - Herbal medicines at a reasonable price to improve the quality of life.
Ayurvedic medicines in its traditional form have always been difficult to administer. Hence Herbasynth has made the formulations easier to administer and consume by packing it in hygienically and scientifically prepared, easy to use, capsule form.